Oscar J. Barroso / AFP7 / Europa Press Sports via Getty Images
It's not every day that two legendary Latina stars, Shakiraand Jennifer Lopez, join forces to share the stage during the halftime Super Bowl show and while the pressure is on—these two are hard at work prepping for one of the biggest nights of the year. But they're not at it alone. 
The "Hips Don't Lie" singer has enlisted the help of fitness professional Anna Kaiser—who has also worked with Kelly Ripa, Karlie Kross, Hilary Duff and Sarah Jessica Parker—to help her get fit and ready for the big night. 
Speaking exclusively with E! News, Kaiser spoke to us about what it's like training with the Colombian singer for nearly a decade, her workout routines, her workout playlist and a breakdown of her daily meals and workouts. 
Kaiser, who recently partnered with Eli Lilly and Company for the 30-Day Thriver Challenge to help support people living with Metastatic Breast Cancer, also gave us a little insight at how Shakira is applying this challenge into her own fitness routine and life. 
Part of the 30-Day Thriver challenge for Kaiser consists of asking Shakira—and you, too—to wake up every morning and spend time with yourself, your loved ones, to work out first thing and not turn on your phone until all of that is over to avoid distractions. "It's harder than it sounds," Kaiser added.
And if you're wondering whether Shakira can achieve all of that while she juggles being a mom, her philanthropic work and working on a new album—keep on scrolling and check out the interview below! 
E! News: Is it hard for Shakira to put her phone down? Do you think she actually does it?
Anna Kaiser: It is really hard. It's not just the Super Bowl. She's filming new music videos, she's coming out with new music, she's still really involved with her philanthropy schools in Columbia. There are just so many things happening at one time. Plus she's a mom, she has kids and she wants to spend time with them too. There's just not enough hours in a day. So we have to refocus. Refocus, realign, and find ways to try to be present.
E! News: Can you walk us through what your Super Bowl work out routine is what you're day to day is with her as you lead up to the big day?
AK: Every day is different because I want to make sure I'm preparing her not just for the Super Bowl, but for each day as it comes. For instance, yesterday she had a really long dance rehearsal in the afternoon, so we just focused on an hour of pure strength in the morning. [Some days] she has even longer days of physical dance rehearsals, so she just started with something very short: 20 minutes, and then [she's off] to get herself ready, head in the game, focused. 
[A couple of days ago] we did a full hour and a half dance interval workout so she could really get a good sweat in, good cardio session in and then focus more on music production. The workouts I'm doing with her, I'm programming into the studio content, so, literally, everyone is doing the exact same workouts that she's doing. So tone, bands, which is sports conditioning, dance intervals, and HIIT or circuit classes and we're doing all those based on the day, but it is really important both for your mind and your body to consistently switch up your workouts so that you keep your head in the game, you don't get bored, and you have a workout that's going to work for you that day for what you need to accomplish that day. So her commitment is six days a week. She has Sundays off.
E! News: You need that day to rest. 
AK: You do need that day to rest, yes. And then we take the rest of the week as it comes, but this is what I say to everyone: it does no matter how many minutes or hours you work out, it is about showing up. If you can only show up and do 15 minutes, do 15 minutes. If you have the time and energy to do an hour and a half, do an hour and a half. But just show up. So she's committed to that as well. Showing up, making sure it happens. It's also not a short-term fix. We've been working together for nine years—this is a commitment to fitness and wellness.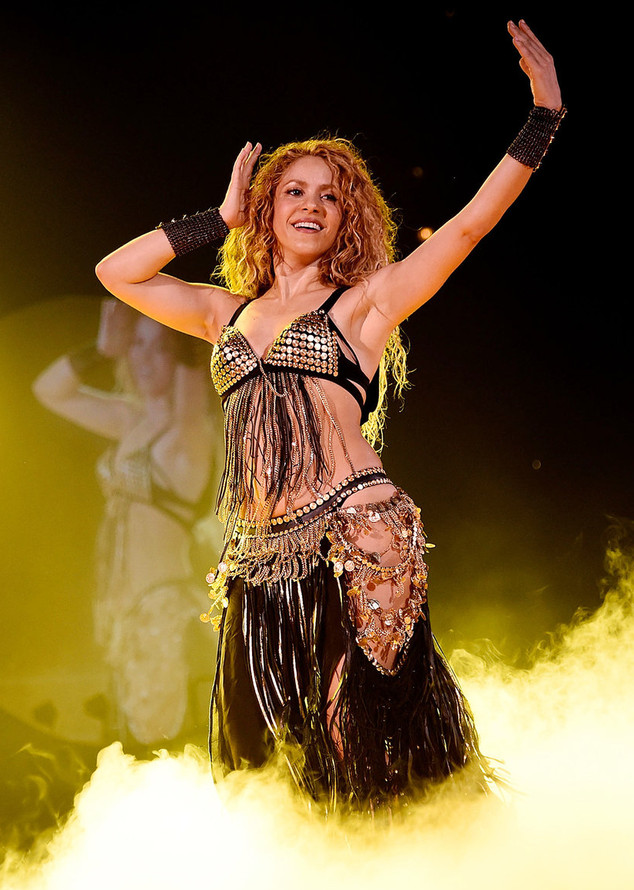 facebook.com/shakira
E! News: Is there a diet change specifically leading up to the Super Bowl for Shakira? It sounds like she works out all day between your workouts and the dance rehearsals she's doing—but how else has she tweaked her diet? 
AK: Well, right now, the dance rehearsals are kicking up but that doesn't happen all the time. There are a lot of other levels to the day that are definitely not physical, so those are the days when it's good to get that cardio workout in. But right now, we're focused on little to no sugar and being pretty strict about that. She's good about it in general, but she will treat herself. Balance is really important. Having those moments where you're allowed to cheat every once in a while is also very important.
Right now, we're being really clean. Little to no sugar, no dairy, balanced meals with lots of fresh vegetables and fish. We do have small meals every three-ish hours because her days are really long and she needs to continue to fuel herself. There really isn't time to sit down and have a full meal. 
E! News: Can you go more into detail on what a day in Shakira's life looks like in terms of her meal plan?
AK: Let's see, so breakfast could be eggs or avocado with olive oil, tomato, sea salt, then a smoothie, berries, plant protein, sometimes greens or green powder. Then for lunch, we have fish and fresh vegetables or a salad with lots of colors. Afternoon is, I know it gets really busy, but we'll do a soup. There are some really good artichoke soups, or it could be a leek and eggplant soup, carrot ginger, and sometimes with a side of cucumbers with lemon and salt. For dinner, she'll also do fish and veggies. It's usually cold for lunch and warm for dinner. Or, like, what does she love? Pork chops. Pork chops are my least favorite food (laughs), but she likes them. Sometimes there will be dark chocolate, like a really pure dark chocolate with little to no sugar in it. 
E! News: Does her husband (Gerard Piqué) ever workout with her?
AK: No, no. (Laughs). He has his own workouts. I mean, his routine is pretty grueling, so he doesn't need any more workouts. But her kids, they come in, they're running around throwing balls, and she just keeps going. It is mom life at its best. She just powers through, head in the game. 
E! News: And how's she feeling? Is she excited? 
AK: Oh, yeah. Oh my gosh, yes, so excited. It's going to be such a phenomenal show, huge show. There's going to be some fun surprises and I think that everyone should get really excited and plan to watch. 
E! News: Has she connected with JLo at all? Is there anything you can talk about in terms of their friendship? Do they bond at all on a fitness level?
AK: You know, I don't have anything specific to say about it. They're doing really well collaborating on this show. It's just going to be crazy energy. They both have really awesome explosive energy. 
(This interview has been edited and condensed for clarity.)
Watch E! News weekday mornings at 7 a.m.!