The one where our wildest dream came true. 
So we're just going to get straight to the point: Jennifer Aniston and Brad Pitt hugged at the 2020 SAG Awards. Go on, take a moment to jump up and down, to squeal, to gasp, to process. This is a safe and supportive space. We'll be here for you. OK, we good? Good. 
Of course, the friendly exes were both nominated at the ceremony on Sunday night, and yes, we had gotten our hopes about just seeing them in the same room. But the two superstars gave us so much more, warmly embracing in front of cameras, giving us proof…and photos to obsessively analyze for the rest of the week. Never have we been more grateful for a three-day weekend!
The Hug came backstage after both actors won in their categories, with Aniston taking home the award for Outstanding Performance by a Female Actor in a Drama Series for The Morning Show and Pitt winning Outstanding Performance by a Male Actor in a Supporting Role in a Motion Picture for Once Upon a Time…in Hollywood, and after we had already collectively lost our s–t over Pitt watching his ex-wife give her heartfelt speech. 
But let's truly analyze the photos, shall we? As well as all of the stages of feelings we hurricaned through after being destroyed by these photos. 
ROBYN BECK/AFP via Getty Images
1. Anticipation: As soon as Pitt mentioned made reference to the similarities between the role of Cliff Booth and his own life–"Let's be honest. It was a difficult part…a guy who gets high, takes his shirt off and doesn't get on with his wife. It was a big stretch"–we were waiting for the camera to cut to Aniston. And boy, does that camera operator deserve a raise/Emmy for his quick work. 
2. Perplexed: We couldn't quite get a read on Aniston's reaction to Pitt's joke. She clapped, but it wasn't excessive. Almost like she knew every single person/tabloid would analyze her reaction? Who can say!
3. Hopeful: But then Aniston, much to her surprise, won. And guess who was still backstage, watching her deliver her speech with such affection? And guess who was sitting at home realizing that Aniston and Pitt would likely be backstage at the same time? Siri, play "You Need to Calm Down." 
4. Slightly Disappointed: Listen, we loved her speech. It was warm. It was funny. It was charming. She even shouted out Adam Sandler at the end, proving she's the ultimate friend. But we will admit a small part of us was hoping she would make some kind of vague reference to Pitt's earlier joke.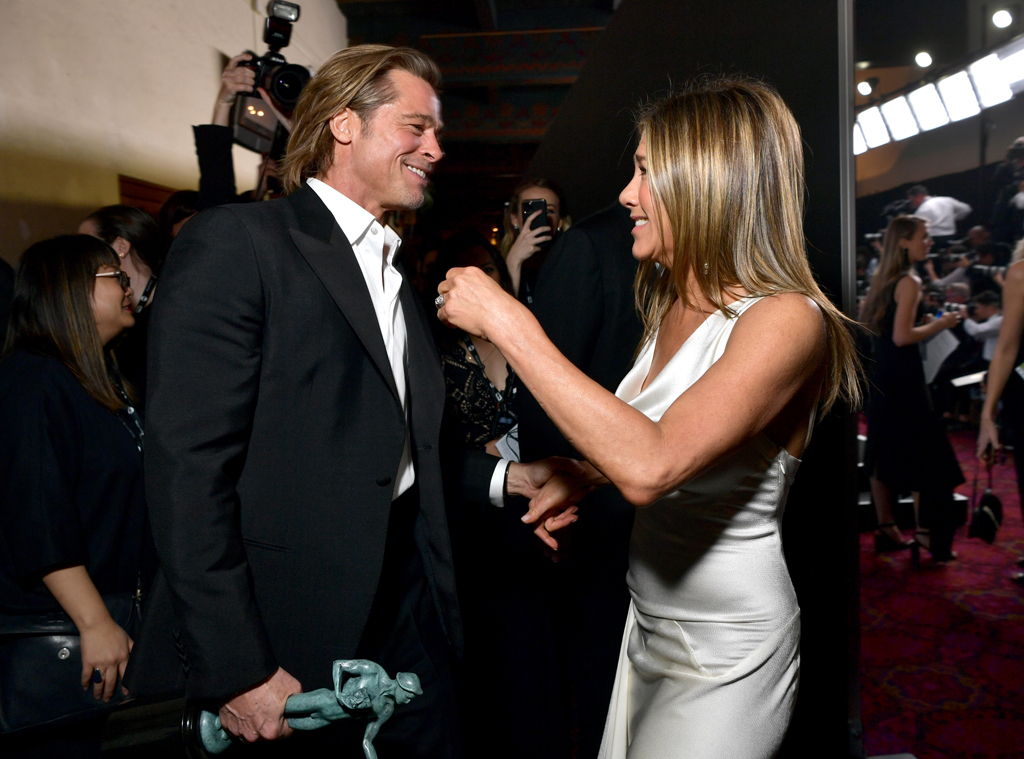 Emma McIntyre/Getty Images for Turner
5. Euphoria: Some people wait a lifetime for a moment like this. We waited 15 years. 15 YEARS. And guess what? It was worth the 5,475 days of our family calling us crazy. Our friends stomping on our dreams while callously downing a mimosa at brunch. Of sometimes doubting our sanity. Because look. Just look at how happy they look…looking at each other. The joy. The eye contact. The—dare we say it—affection?
AND DON'T THINK WE DIDN'T NOTICE HE WAS HOLDING HER HAND, OK? What, do you think we're amateurs or something?!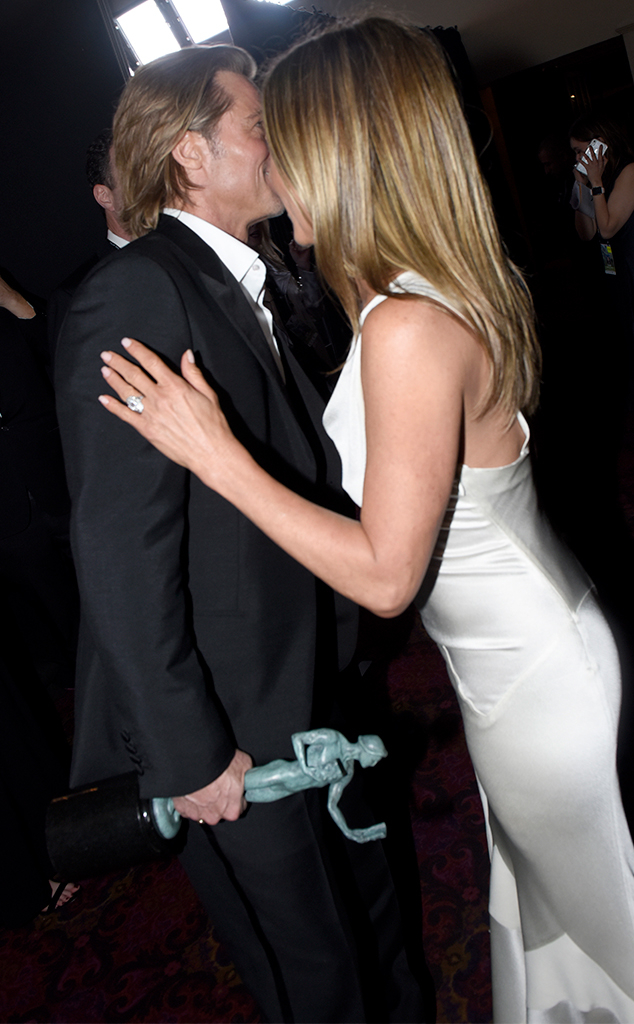 Vivien Killilea/Getty Images for SAG-AFTRA
We mean, they're not not making out, right? (OK, we know. It's a stretch, but let us have this one thing.)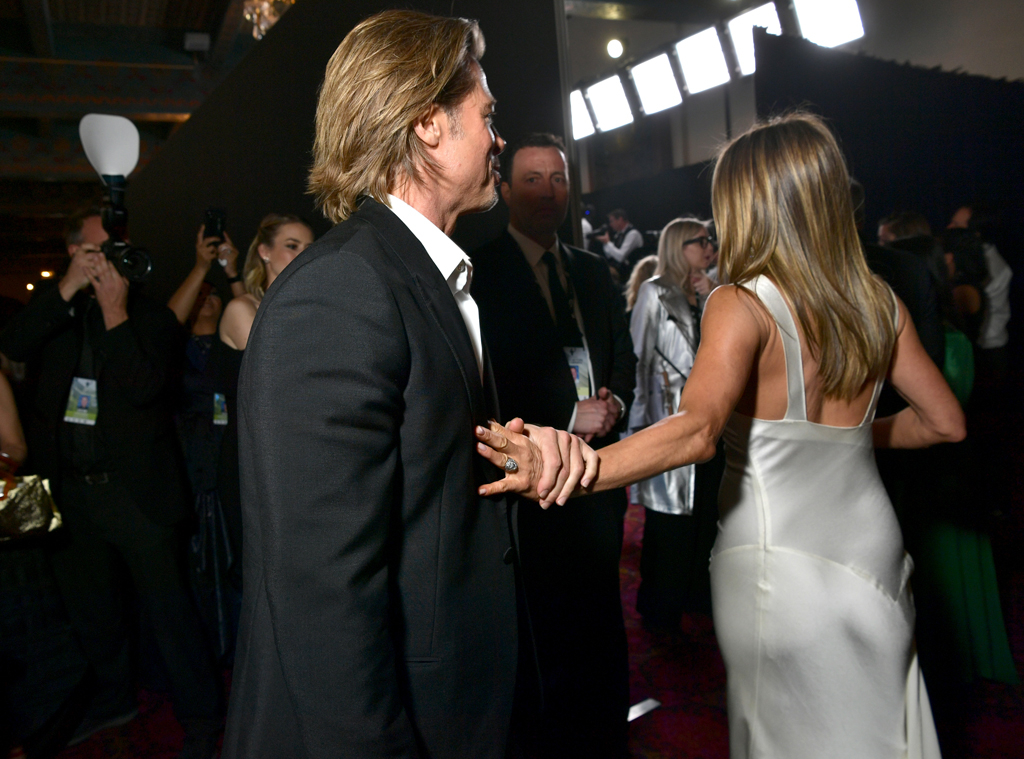 Emma McIntyre/Getty Images for Turner
6. Excited: Look at her hand lingering on his chest…the way his hand is holding it close, like he doesn't want her to pull it away. (Yes, we are available for any body language readings you may need.) Is this the start…of something new old new again? (Here's hoping Jen has a Tinder profile and will swipe right for a recent SAG Award winner.)
Pitt said he would've shared the raft, but did he have to let go?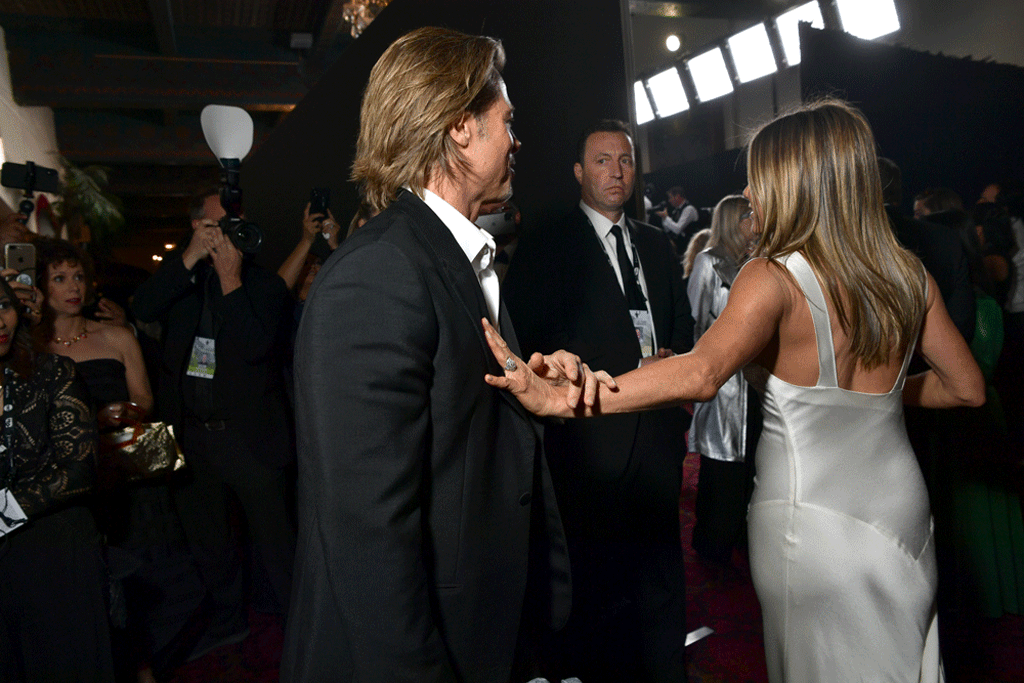 Emma McIntyre/Getty Images for Turner
7. Wired: Now excuse us while we play this .GIF on repeat every day for the rest of our lives. (Or at least until Friends comes back thanks to Peacock.) 
8. Open: Don't think we didn't call our therapist to schedule an emergency session to work through all of the feelings. Daddy issues, feel free to sit this one out!