Talk about the ultimate superstar support system. 
While Brad Pitt and Bradley Cooper have known each other for years, they've gotten "close" in the last few years, a source close to Pitt told E! News, saying, "Brad has a lot of respect for Bradley and vice versa."
And that respect was on center stage—literally—when the A Star Is Born director presented his friend with the award for Best Supporting Actor at the National Board of Review Annual Awards Gala on Jan. 8 for his turn in When the Once Upon a Time…in Hollywood. In a surprising move, Pitt opened up about his sobriety in his acceptance speech, revealing it was Cooper who was instrumental in his journey. 
"I got sober because of this guy," the 56-year-old star revealed. "And every day's been happier ever since…I love you and I thank you."
While Pitt has publicly talked about his sobriety, it was the first time he discussed the large role Cooper played in getting help, with the actor spending a year and a half in Alcoholics Anonymous in 2017 following his high-profile split from Angelina Jolie.
"I had taken things as far as I could take it, so I removed my drinking privileges," he told The New York Times in an interview last year, going on to praise his AA group, which was comprised solely of men. "You had all these men sitting around being open and honest in a way I have never heard. It was this safe space where there was little judgment, and therefore little judgment of yourself."
Jamie McCarthy/Getty Images for National Board of Review
Equally as private as Pitt, Cooper once opened up about his own sobriety in an interview with The Hollywood Reporter in 2012.
"I don't drink or do drugs at all anymore," Cooper said, revealing he gave them up when it was 29 years old. "Being sober helps a great deal."
Cooper, 45, also opened up about one particularly eye-opening experience that proved he needed to get sober. 
"I was at a party and deliberately bashed my head on the concrete floor…like, 'Hey, look how tough I am!' And I came up, and blood dripped down," he detailed. "And then I did it again. I spent the night at St. Vincent's Hospital with a sock of ice, waiting for them to stitch me up."
Cooper, who served as a producer on the Oscar nominated film The Joker, continued to talk about why he had turned to alcohol when he was younger, admitting he had "felt like an outsider" in Hollywood. 
"I was so concerned what you thought of me, how I was coming across, how I would survive the day. I always felt like an outsider. I just lived in my head," he explained. "I realized I wasn't going to live up to my potential, and that scared the hell out of me. I thought, 'Wow, I'm actually gonna ruin my life; I'm really gonna ruin it."https://www.eonline.com/"
While friends tried to help him, Cooper resisted, ignoring their concerns. 
"Part of me believed it, and part of me didn't. But the proof was in the pudding: I'd always gotten up at the crack of dawn, and that was out the window. I remember looking at my life, my apartment, my dogs, and I thought, 'What's happening?"https://www.eonline.com/"
Pitt has also discussed how he used alcohol as an "escape" in an interview with Anthony Hopkins for Interview magazine, telling his Legends of the Fall and Meet Joe Black co-star he was coming to terms with his mistakes. 
"I'm realizing, as a real act of forgiveness for myself for all the choices that I've made that I'm not proud of, that I value those missteps, because they led to some wisdom, which led to something else. You can't have one without the other," Pitt says. "I see it as something I'm just now getting my arms around at this time in my life. But I certainly don't feel like I can take credit for any of it."
Ironically, Cooper was already sober for years before landing his big break in The Hangover trilogy, a role that would begin his ascent to the A-list and his struggles with tabloid coverage and endless speculation over his love life, something his friend Pitt also knows something about.
After high-profile romances with Renee Zellweger, Zoe Saldana and Suki Waterhouse, Cooper began dating supermodel Irina Shayk in 2015, with the private couple welcoming their first child together, a baby girl named Lea de Seine Shayk Cooper, in 2017.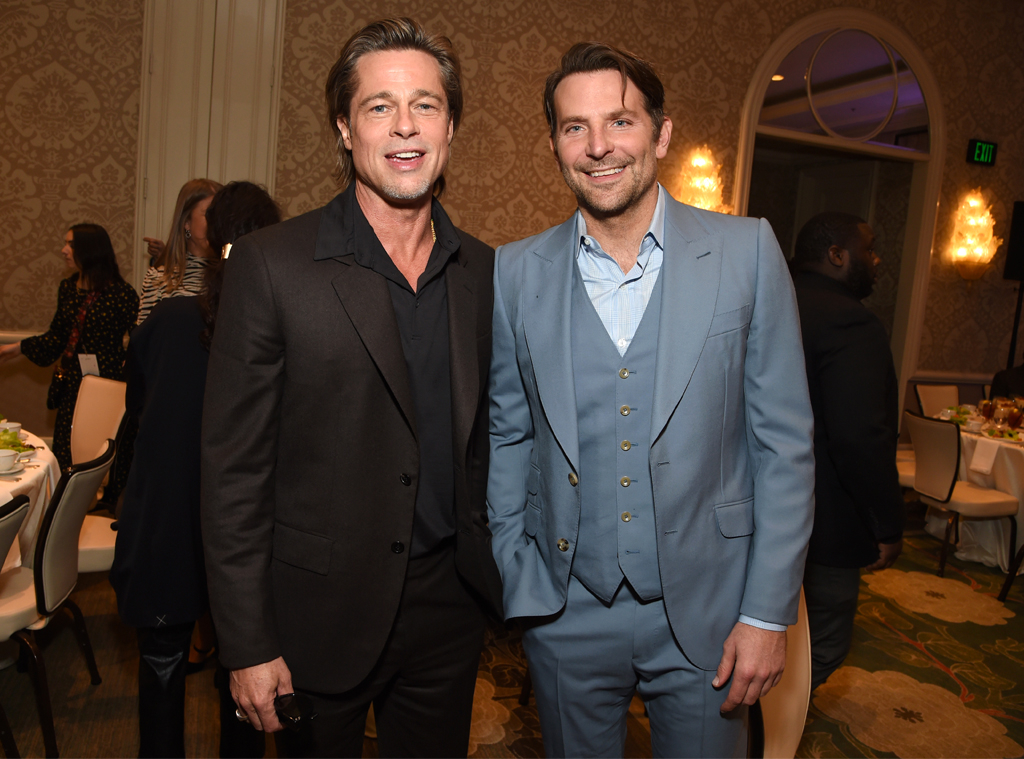 Michael Kovac/Getty Images for AFI
But after four years together and amid split rumors and endless speculation over his friendship with A Star Is Born co-star Lady Gaga (Update: still just friends, people!), Cooper and Shayk broke up in June 2019. 
Given their mutual recent splits and navigating their lives as single men with children, Pitt, who has six children—Maddox (18), Pax (16), Zahara (14), Shiloh (13), Knox (11) and Vivienne (11)—and Cooper's friendship has gotten even closer, according to our source, and at the beginning of his acceptance speech at the National Board of Review Annual Awards Gala, Pitt acknowledged, "Bradley just put his daughter to bed and then rushed over to do this. He's a sweetheart."
Our insider explained, "They are both fathers and navigating family situations and being single. They go to dinner and have each other over for visits when they can. They've had deep conversations and have really connected and supported each other through difficult times."
But the two bond over more than just their personal lives, as "they have a lot in common and a lot to talk about. They are both very into music and art. They go to shows together and to see music live when they can."
That includes Pitt and Cooper attending the Glastonbury Festival in England in June 2017 together, with musician Chris Simmons posting a photo on Instagram, writing, "When you get your photo with Brad Pitt photobombed by Bradley Cooper!"
During the festival, Cooper surprised the audience by taking the stage to perform, later revealing he was secretly filming scenes for A Star Is Born. 
Pitt was on-hand to watch his friend work on his directorial debut, which netted him multiple Oscar nominations, including Best Actor, Best Adapted Screenplay and Best Picture, with many believing he was snubbed in the Best Director category. 
"Both personally and professionally he admires what Bradley has done," our source said. "He's a great dad and an amazing filmmaker. Brad was very impressed with A Star is Born and seeing Bradley's process from beginning to end was incredible."
Something tells us we might see these two friends bring their bond to the big-screen sooner rather than later. 
Watch E! News weekday mornings at 7 a.m.! And don't miss our 2020 Grammys: E!'s Inside Guide special Wednesday, Jan. 22 at 11 p.m. for a Grammy Awards preview!