Taylor Hill/Getty Images for Boston Calling
It's a good time to be a member of Tank and the Bangas.
Hot on the heels of the May 2019 release of their second sophomore album Green Balloon, the nine-member genre-blending group from New Orleans found themselves one of the Best New Artist nominees at the 2020 Grammys, set to take place on Sunday, Jan. 26 in Los Angeles. 
While the Recording Academy has labeled them new artists, the truth is the group has been active since frontwoman Tarriona "Tank" Ball founded it in 2011. Presenting a sound that's a fusion of funk, soul, hip-hop, jazz, and spoken word, the group, whose members also include Joshua Johnson (drums and musical director), Norman Spence (bass and synth keys), Jonathan Johnson (bass), Merell Burkett (keyboard), Anjelika "Jelly" Joseph and Kayla Buggage (background vocals), Albert Allenback (alto saxophone and flute) and Etienne Stoufflet (tenor saxophone), released their first album, Think Tank, in 2013, followed by a trio of live albums in 2014, 2018 and 2019.
Born of a city that's almost certainly defined by its music, Tank and the Bangas have synthesized the musical history of the Big Easy and pulled it into now. And now they find themselves up against fellow nominees Billie Eilish, Lil Nas X, Lizzo, Rosalia, Maggie Rogers, Yola and Black Pumas for one of the most coveted awards on Grammys night.
Get to know Tank and the Bangas a little better before their big night on Sunday with their answers to our exclusive Best New Artist Nominee Questionnaire!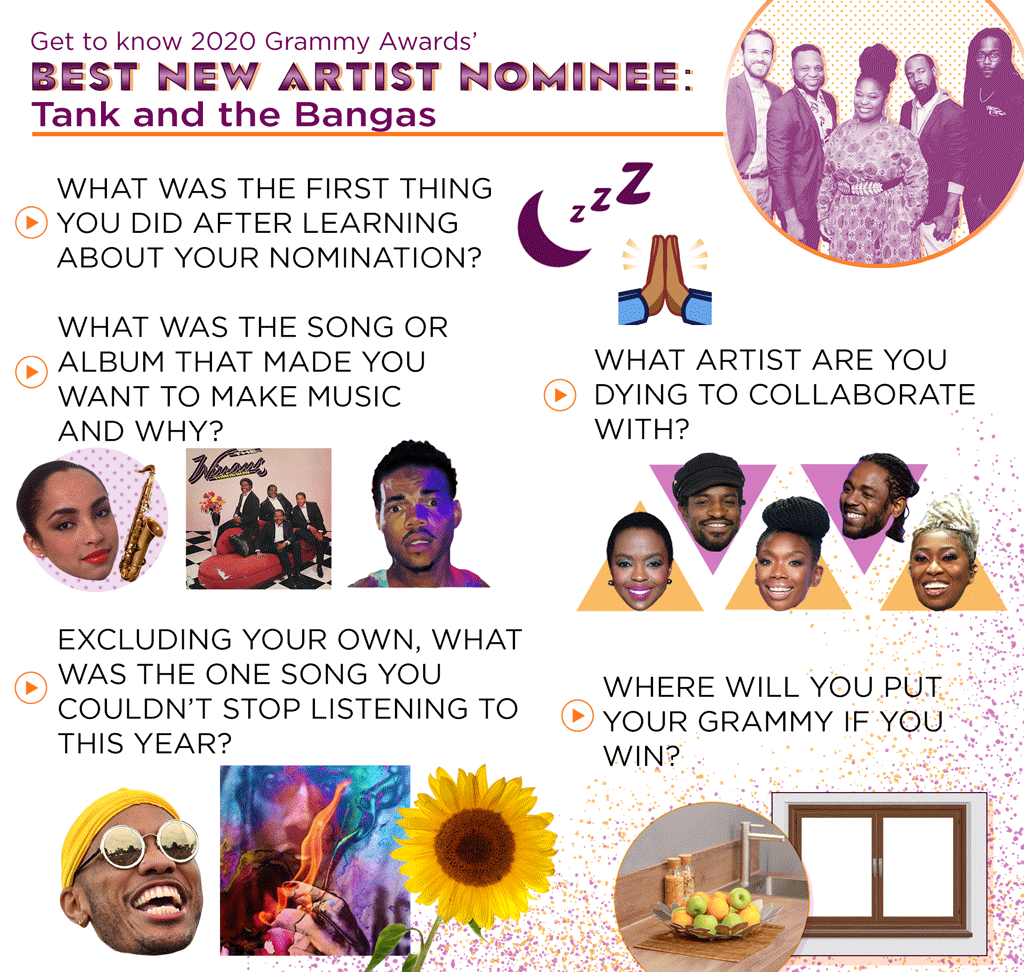 Melissa Herwitt / E! Illustration
What was the first thing you did after learning about your nomination?
Norman: Checked Google to make sure it was true, then yelled it to my wife in the other room lol.
Albert: I dropped my girlfriend off at work, parked in front of her work, and sat in my car laughing, shouting, and smiling for long that she came back out during her shift to make sure everything was OK.
Tank: The first thing I did after learning about the nomination was smile really huge and go back to sleep because it was very early
Josh: I thanked God. I told my bro and my mom. We did a celebratory dance. Then I remembered to breathe lol.
What was the song or album that made you want to make music and why?
Norman: "Everything You Touch Is a Song" by The Winans
Albert: The song "Smooth Operator" by Sade made me want to play music because it was my first exposure to the saxophone and I fell in love—love at first sax. The album that made me want to start making music (producing/writing/creating for myself) was "Acid Rap" by Chance the Rapper. I was so inspired by the elevated musicality, the horns, the chords, the way it was relevant but also had integrity, that I totally shifted course from playing "jazz" music to making beats and composing.
What artist are you dying to collaborate with?
Band, collectively: Kendrick Lamar, Andre 3000, Timbaland, Dr. Dre, Missy Elliot, Lalah Hathaway, Jon Batiste, Anderson .Paak, YBN Cordae, Kyle, Rapsody, Brandy, Jill Scott, Lauryn Hill, Ahmad Jamal, Big Boi
Excluding your own, what was the one song you couldn't stop listening to this year?
Norman: "I Want to Thank You" by Alicia Meyers.
Albert: "Yada Yada" by Anderson .Paak! What a freaking song.
Tank: "Vienna" by Billy Joel.
Josh: "Hottest in the City" by Ty Dolla $ign, "Sunflower" by Post Malone feat. Swae Lee, "Babysitter" by DaBaby, and "All I Want" and "Lurkin" by Chris Brown. All at different times.
Where will you put your Grammy if you win?
Norman: By my instruments in the living room, probably, until I get my own space to work.
Albert: I will suspend it from a string at eye-level right in front of my front door so people have to move around it to get into my house. And if they don't mention it, I will bring it up.
Tank: That's a hard one. Gotta be the kitchen counter. I'm always in there.
Josh: On the wall in my "studio room. The first of many achievements like this made with fam.
Watch E!'s Live From the Red Carpet 2020 Grammy Awards coverage Sunday, Jan. 26 starting at 4 p.m. ET/1 p.m. PT followed by the Grammys telecast at 8 p.m. ET/5 p.m. PT on CBS. And for a recap of music's biggest night immediately following the show, don't miss the E! After Party special at 11:30 p.m. ET/8:30 p.m. PT, only on E!