Actors never look as comfortable as they do on nights such as this—because who else, other than their fellow actors, truly know what it's all about?
From the 14-hour days on set to the six-packs drawn on by makeup artists meant to last for one night only, these are the people who get… it.
So while the 2020 Screen Actors Guild Awards, which took place at Los Angeles' Shrine Auditorium, was short on Ricky Gervais-style deprecation, it was long on accolades and appreciation and, thanks to those quirky thespians who vote for each other, there were a few surprises as the season for celebrating television wound down and the last adulatory sprint leading up to the Oscars gets underway.
Here are the moments that surprised, delighted and baffled at the SAG Awards:
1. A Willing Host: In a fitting twist, considering how wild of a loop the mesmerizing film by Bong Joon Ho throws you for, the stars of Parasite won for Outstanding Performance by a Cast in a Motion Picture, the SAG equivalent of the best movie prize and another development to give you pause while you fill out your Oscar ballot for the office pool.
Kevork Djansezian/Getty Images for Turner
"Although Parasite is the title, I think the story is about coexistence and how we can all live together," Kang-ho Song, who plays the beleaguered patriarch of a struggling family that ingratiates itself into the lives of a well-meaning but also tragically oblivious wealthy family, said via a translator as Bong, sitting in the audience, captured the moment on his phone. "But to be honored with the best ensemble award, it occurred to me that maybe we haven't created such a bad movie."
The not-bad movie is also nominated for six Oscars, including Best Picture and Best Director as well as Best International Film—the first-ever movie from South Korea to be nominated in any of those categories.
1917 just won the top prize from the Producers Guild of America and the World War I action drama was the Golden Globes' pick for drama feature while Once Upon a Time…in Hollywood was best comedy, but there are no safe bets in those categories now. (Except that The Irishman may be largely remembered as an ultra-expensive reunion hosted by Netflix for Marty, Bob, Joe, Harvey and Al.)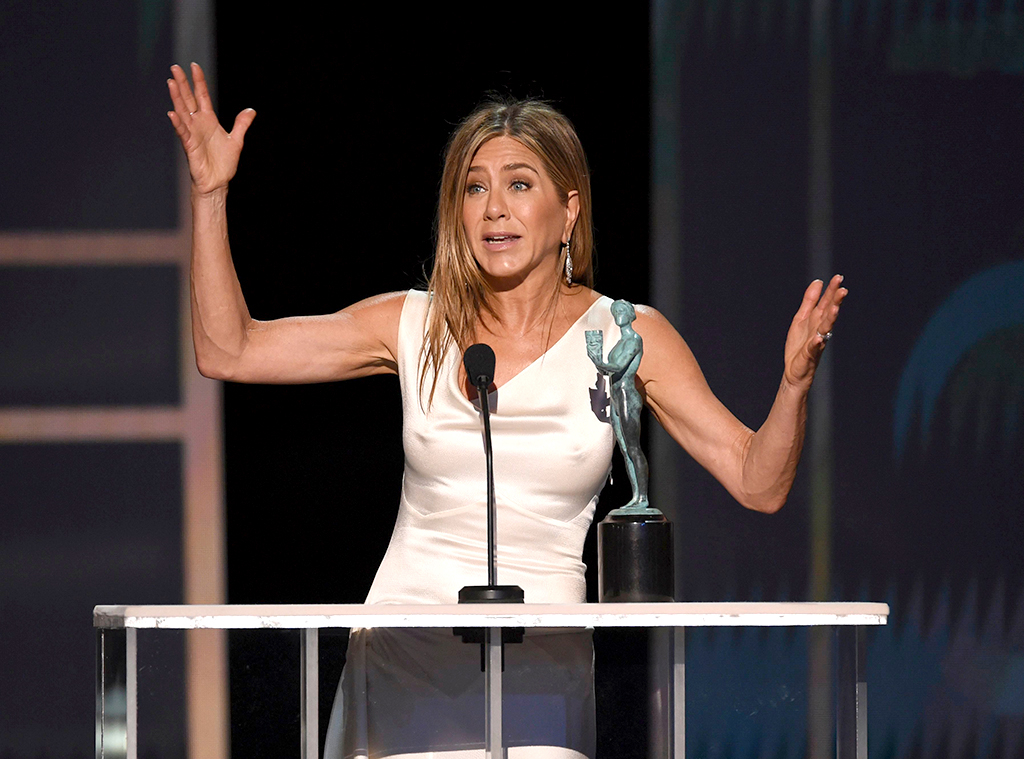 Chris Pizzello/Invision/AP/Shutterstock
2. Rise and Shine: The best Morning Show hosts really do become your Friends along the way. Jennifer Aniston won her first SAG Award since 1996, when she was a part of a triumphant Friends ensemble, this time accepting for her breaking-out-again role as a host of a network morning show who's as blindsided as anyone when her longtime male co-anchor is fired for sexual misconduct.
Her win for Outstanding Performance by a Female Actor in a TV Series, Drama, also marked a momentous first for Apple TV+, the just months-old streaming service where you can find and duly binge The Morning Show.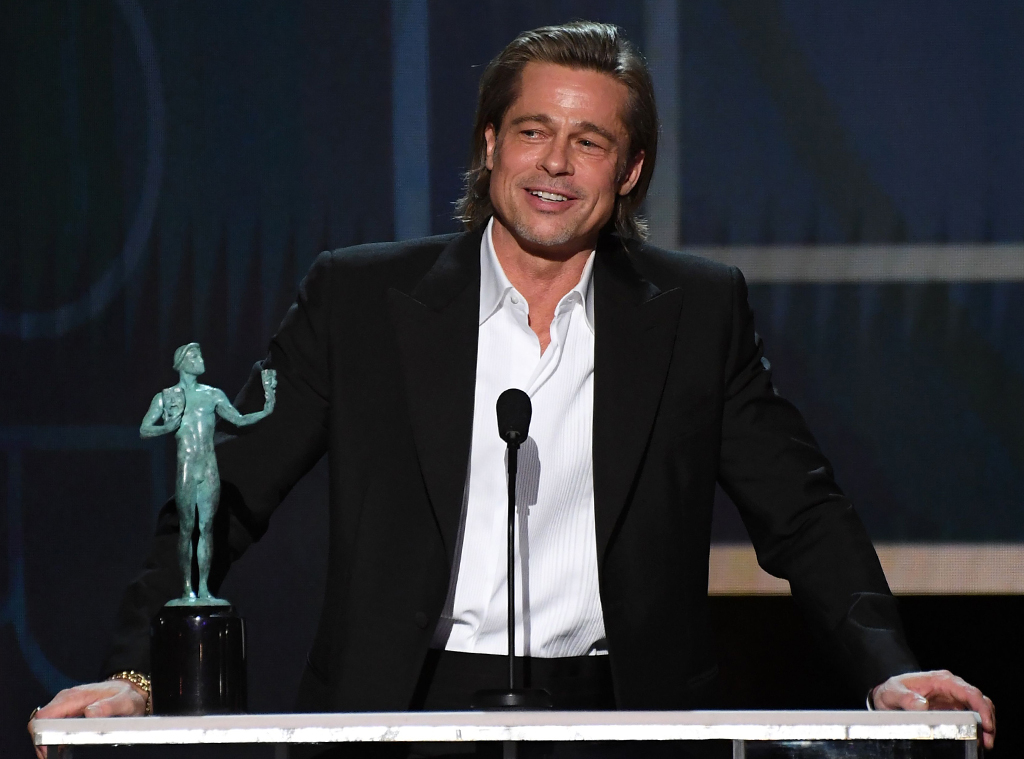 ROBYN BECK/AFP via Getty Images
3. Once Upon a Time… : No, you haven't been smoking an acid-laced cigarette. This was another fairy-tale outcome for Brad Pitt, who won a SAG Award as part of the Inglourious Basterds ensemble 10 years ago but had never been honored on his own until tonight—and who is now the odds-on favorite to win his first Academy Award.
For acting, that is—but just because it's won't be his first-ever Oscar doesn't make it any less momentous, dang it…
All we know, is that this awards season has provided us with one perfect Brad Pitt moment after another, and 2020 couldn't be turning out better for him than if Quentin Tarantino had scripted it himself. (Or Nora Ephron, considering the hug he and ex-wife Aniston shared after he stopped, moments after his own win, to watch her speech on a monitor set up backstage.)
Chris Pizzello/Invision/AP/Shutterstock
4. Queen Victorious: The Crown topped Game of Thrones to win its first-ever SAG Award for Performance by an Ensemble in a Drama Series—meaning GoT came and went without ever winning that prize, though its stunt ensemble has won eight times for its derring-do, including tonight.
Peter Dinklage was honored for the first time, however, with a win for Performance by a Male Actor in a Drama Series, and since he's the glue that held Westeros together for all those years, especially in GoT's uneven final season, it was only fitting that he was the last person standing in honor of the history-making HBO series.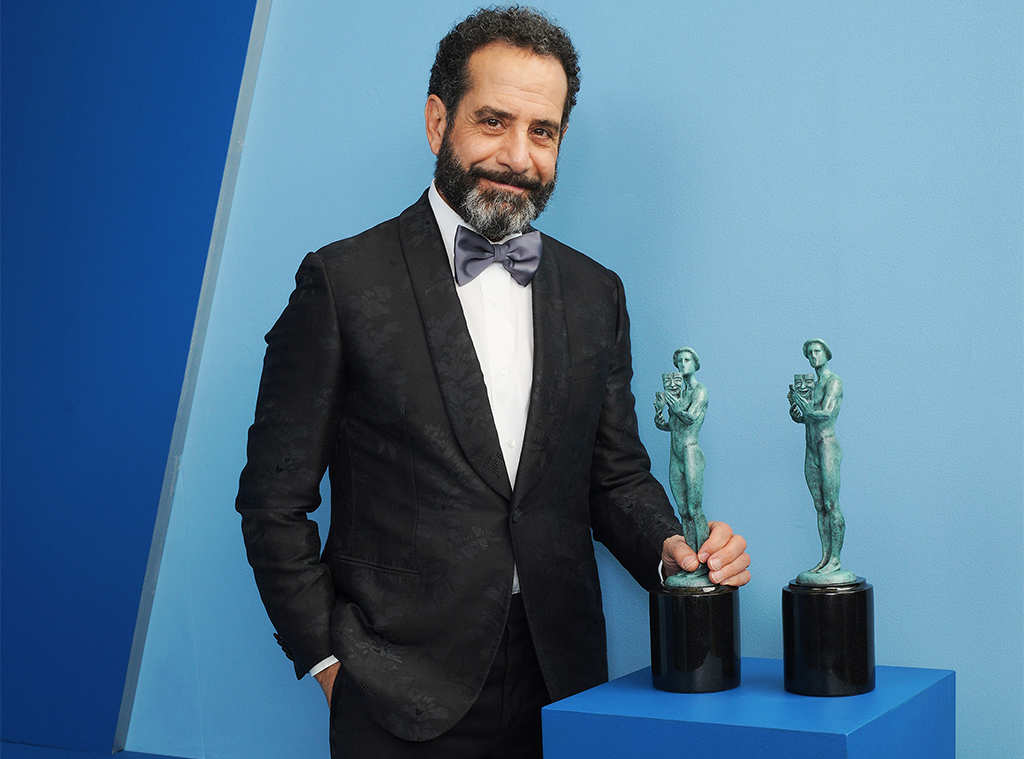 Terence Patrick/Getty Images for Turner
5. A Real Actors' Actor: SAG members do have their favorites, such as Tony Shalhoub, who enjoyed his second straight—and fourth overall—win for Performance by a Male Actor in a Comedy, these last two coming for The Marvelous Mrs. Maisel.
Sam Rockwell, also a two-time winner before tonight, was more of a surprise in the Performance by a Male Actor in a Limited Series or TV Movie category, his turn as Bob Fosse in Fosse/Verdon having ironically played second fiddle to Michelle Williams' consistently winning (including tonight) performance as Gwen Verdon, Fosse's creative other half whose emotional support lasted till death did they part, unlike their tumultuous marriage.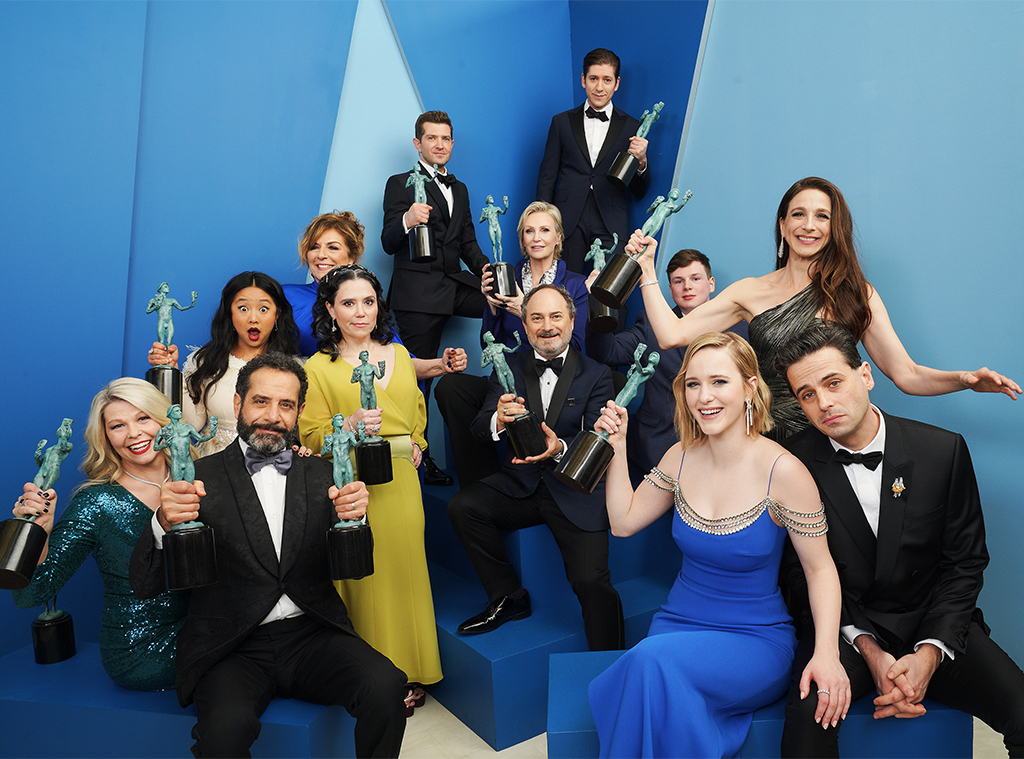 Terence Patrick/Getty Images for Turner
6. A Borscht Belt Comedian Walks Into a Bar With a Hot Priest…: Phoebe Waller-Bridge continued her dominance of all obstacles in her path with a win for Performance by a Female Actor in a Comedy Series on what was her first-ever trip to the SAG Awards, but Fleabag ultimately couldn't topple repeat winner The Marvelous Mrs. Maisel in the Performance by an Ensemble in a Comedy Series category.
Both wins, however, along with Shalhoub's, made Amazon Prime the most decorated platform of the night.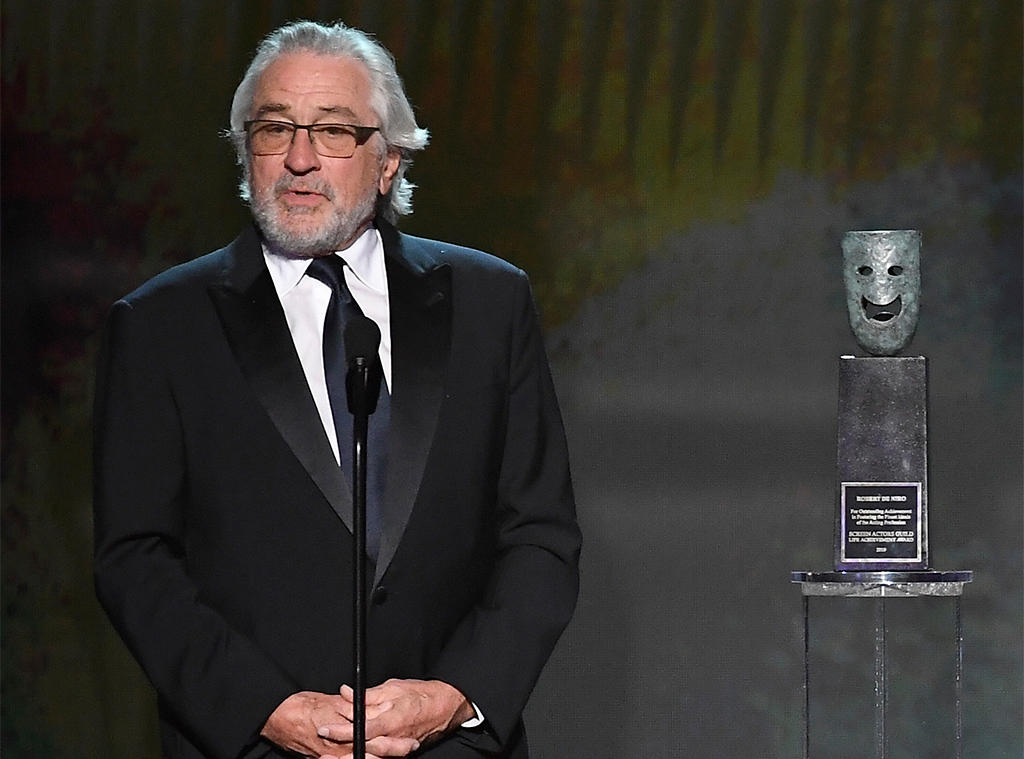 Kevork Djansezian/Getty Images for Turner
7. He's Talkin' to Us: It was nice to hear Robert De Niro make a speech that he had prepared, not least because he's more known for looking as if he'd rather be anywhere else whenever he's called upon to chat off the cuff. But he knew the Lifetime Achievement Award was coming tonight, so he wrote a few things down and did his research—which included looking up his own quote from a recent Variety interview because he appreciated his previous sentiment.
"There's right and there's wrong, and there's common sense and there's abuse of power," the veteran actor and vocal critic of the current presidential administration said, getting political for a moment, "and as a citizen I have as much right as anybody—an actor, an athlete, a musician, or anybody else—to voice my opinion. And if I have a bigger voice because of my situation, I'm going to use it whenever I see a blatant abuse of power. And that's all I'm going to say about that tonight."
8. Winning Duo: Since they brought it up, noting that they were not hosting the SAG Awards, but were merely opening and then closing the show with their impeccable comedic timing… Do father-son Schitt's Creek stars Eugene Levy and Dan Levy want to host something? Anything? A dinner party? The Emmys? Because if so, we will be there.
Well, we're going to be there no matter what, but they would certainly add some extra oomph to the proceedings.