Dear reader, can you believe it's been 10 years since Dear John came out? 
The tearjerker starring Channing Tatum and Amanda Seyfried has officially reached double digits, with the adaptation of Nicholas Sparks' best-selling novel holding its premiere a decade ago. Of course, given that it was a movie based on a Sparks book (with those adaptations truly reaching their peak at this time, with The Last Song coming out a few months later), and you know, featured a lot of a shirtless Tatum, starring in his first real romantic leading man role, Dear John proved to be an irresistible Valentine's Day treat for audiences.
The film centers on the years-long love story between John Tyree (Tatum), a soldier on leave, and Savannah Curtis (Seyfried), a college student, who meet while he's on leave and she's on Spring Break. Their complicated romance plays out through the letters they write one another while he is fighting in Iraq and she is dealing with a terminally ill friend/love interest. So yeah, there's a lot of tears.
But did you know the movie almost had a completely different ending, with the new one being shot just days before the film hit theaters? 
Here are 10 surprising things you might not know about Dear John…
Relativity Media/Kobal/Shutterstock
1. After being attached to the project for "almost three to four years" before it finally began production, Tatum revealed he actually had director approval, with Swedish director Lasse Hallström, who notably had directed many of ABBA's music videos (This will be important later, trust), Chocolat, The Cider House Rules and What's Eating Gilbert Grape?, landing the job. 
2. Fittingly, given his ties to the pop group, Hallström's first pick for the female lead with Seyfried, who had just starred in Mamma Mia!, with the director inviting her to lunch to ask if she'd be interested in the project. "We had a good time, we connected and he wanted me to do it," Seyfried told SheKnows. "I had to fight for it after because even though a director wants you, it doesn't mean that you're going to necessarily play the role."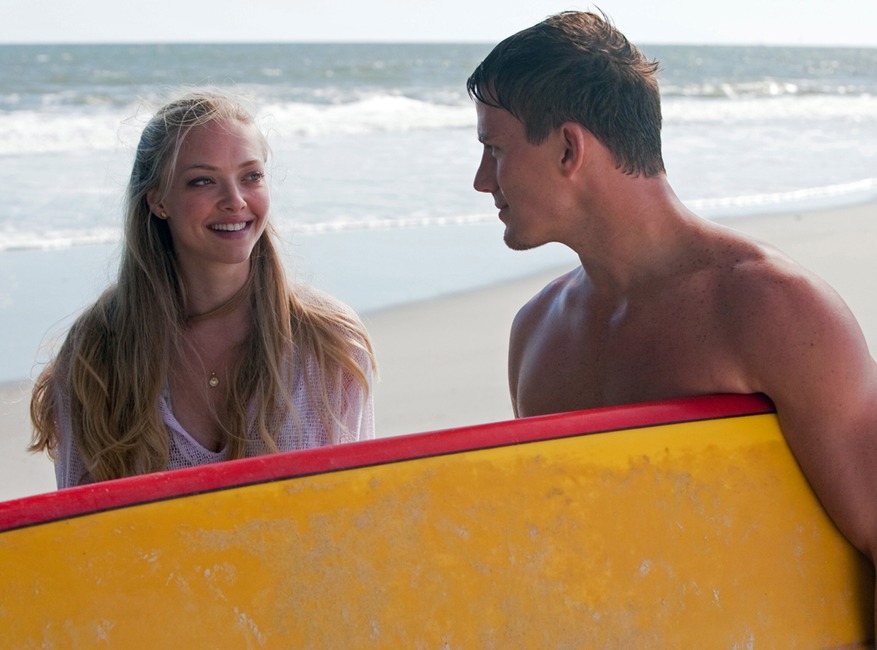 Relativity Media/Kobal/Shutterstock
3. Filmed in Charleston, South Carolina, Tatum learned how to surf for the movie, and put his foot down when it came to another water-related stunt: his big dive off the pier. "They almost didn't let me do it. I pitched a fit. I was not happy with it. It was a 10-foot drop. It wasn't that far, you know," he told Collider. "The stunt guys were doing it. They went down and saw that there was nothing under the water. It was really deep and they weren't going to let me do it for insurance reasons, and I utterly pitched a fit and they let me do it once and that's the one that's in the movie."
4. One key element in the story actually came from the author's real-life, with Sparks revealing in an interview that his first encounter with his now-ex-wife inspired John and Savannah's first meeting. "I met my wife on Spring break when I was in college…I bumped into her in Florida and told her the next day that I was going to marry her and 20 years later here we are," he told Collider.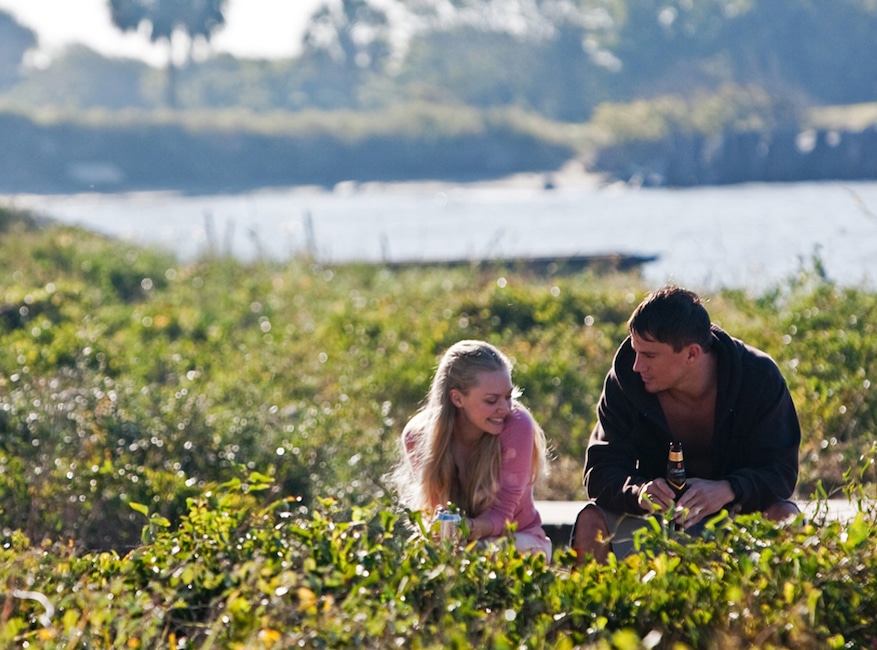 Relativity Media/Kobal/Shutterstock
5. The song Savannah performs in the film–"Little House"–was actually written and performed by Seyfried, with Hallström asking his star to do it. "I had a piano in my house in Charleston. Every day I'd go home and play. I had a violin, guitar and piano. That's my wind-down method. I was writing the song," she said. "I don't know what it means or where my head was but, at the end of the shoot, Lasse asked me to bring in my guitar to do a freestyle song for a montage. I was like, 'All right."https://www.eonline.com/"
Originally, the song was supposed to be a cover that had a pretty awkward backstory: "I thought I was going to play something that my ex-boyfriend (Jesse Marchant) sang because we needed to get the rights to it so I called him and I was like, 'Can I quick sing this?"https://www.eonline.com/" she explained to SheKnows. "I got on set and I forgot the lyrics. [Laughs.] I knew how to play a guitar because he taught me when we were together. So I was forced to sing my own song. Then they used it and had me record it in the studio and now it's on the end credits and the soundtrack."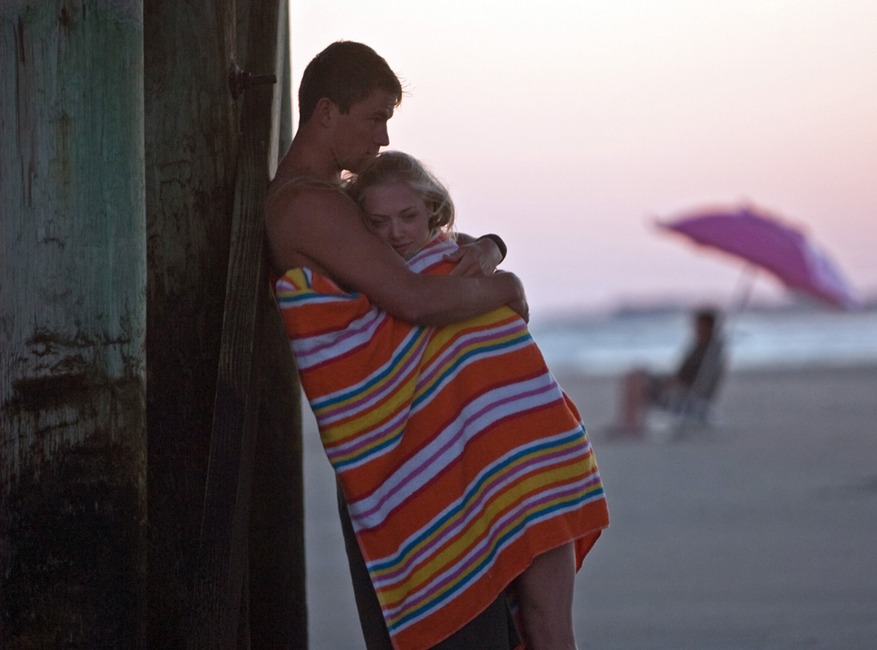 Relativity Media/Kobal/Shutterstock
7. While audiences loved the film's hopeful ending, Dear John had a different ending just days before its release that was faithful to the book's ending (spoiler alert: John and Savannah do not end up together on the page). After executives expressed concern over the downer of an ending, Page Six reported at the time that hasty reshoot when down, despite the director's initial resistance. Test audiences approved, and Sparks said he was OK with the change. 
"It's not, of course, exactly the same as the novel, but the changes that they made I think really improved it as a film," he told Collider.
8. Ironically enough, Seyfried predicted one of her future roles while promoting the movie with Tatum. During a joint interview for Moviefone, he asked his co-star which musical she would love to star in. "This sounds really stupid, but Les Mis was my favorite musical and I know a lot of actresses would say that, because it's so emotional," Seyfried answered. Two years later, she would play Cosette in the big screen adaptation of the beloved musical.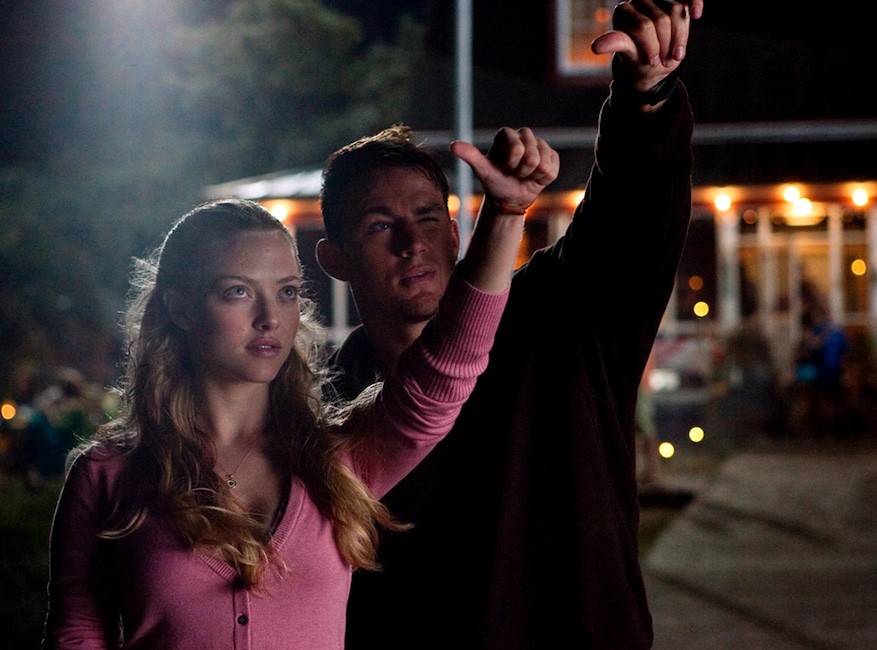 Relativity Media/Kobal/Shutterstock
9. Seyfried made headlines in 2014 when she admitted during an interview with BBC1 Radio that she really couldn't remember kissing Tatum during filming of the romantic movie. "I don't remember… I'm pretty sure it was great," she said. "It was easy! He's a funny guy!" Hm…maybe that's because when she was asked in an interview while promoting the movie how the on-screen pair were able to get through the love scenes, Seyfried answered, "Alcohol!"
10. Despite the popularity of previous Sparks adaptations like The Notebook and Message in a Bottle, Dear John was the first one to hit No. 1 at the box office, grossing over $30 million and knocking Avatar from its impressive seven-week run at No. 1.
Watch E! News weekday mornings at 7 a.m.!